Sports
US Open: Ben Shelton admits Novak Djokovic's end-of-match celebration didn't bother him. | Tennis News
American Ben Shelton revealed Novak Djokovic's end-of-match celebration didn't bother him, saying "imitation is the sincerest form of flattery".
Djokovic used his experience to overcome Shelton as the Serbian battled past his 20-year-old challenger to reach his 10th US Open final.
The 36-year-old forced Shelton into a forehand error on match point and made a not-so-subtle jab at his favoured celebration as he mimicked hanging up the telephone while walking to the net.
Shelton won an NCAA singles title for the University of Florida last year and captured attention over the past two weeks by flexing his biceps and pretending his hand is an old-style telephone handset that he slams down – a routine he borrowed from former Florida track and field athlete Grant Holloway, a world champion hurdler.
Shelton said he had not seen Djokovic's move until after the match – but added that he would not tell another opponent how to celebrate.
"I don't like when I'm on social media and I see people telling me how I can celebrate or can't celebrate. I think if you win the match, you deserve to do whatever you want," Shelton said with a smile.
"As a kid growing up, I always learned that imitation is the sincerest form of flattery, so that's all I have to say about that."
Djokovic was playing in his 100th US Open match, while unseeded Shelton was taking part his first major semi-final and only his seventh career match at the tournament.
"He's a guy who can compete at the highest level, has a similar mentality to me on the court, with how he wants to come after you and be aggressive and show his emotion," Shelton said.
"It was really cool to see that matchup for the first time. Looking forward to hopefully getting it again."
Djokovic, who disconnected Shelton's dream, said: "I just love Ben's celebration. I thought it was very original, and I copied him. I stole his celebration."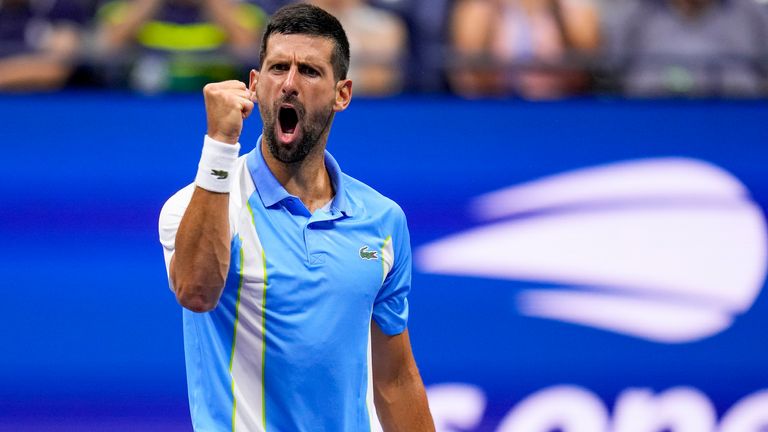 Physically I have been as fit as I have been in years and years. I still feel that I'm in the game.
The three-time US Open champion is one win away from a 24th major title and becoming the oldest winner in the Open era, surpassing Ken Rosewall who was 35 when he won the title in 1970.
"Look, these are the kind of matches and occasions that I still thrive on, that inspire me to wake up every day and work hard," Djokovic said.
"Grand slams are the most important, the ones that mean the most to me. Playing an American player is never easy and I had to hold my nerve. It was anybody's game at the end of the third set. I'm really pleased with this win today."
Djokovic added he was "not surprised" at all that at even at the age of 36 he still able to compete against the next generation and still reach four Grand Slam finals in a year.
"It probably sounds cocky or arrogant, but I'm not really surprised, because I know how much work and dedication and energy I put into trying to be in this position, so I know that I deserve this," he said.
"I always believe in myself, in my own capabilities, in my skills, in my quality as a tennis player to be able to deliver when it matters.
"Physically I have been as fit as I have been in years and years. I still feel that I'm in the game."
The US Open on Sky Sports
Tennis is back on Sky, adding to the existing sports portfolio and reaffirming the broadcaster as the home of live sport in the UK & Ireland.
Sky Sports' new mixed reality studio features multiple custom built LED screens, integrated light 'sabres', and an open canopy roof, making the space alive with colour and energy to reflect the vibrancy of the last Grand Slam of the year.
With integrated AR capabilities, a versatile LED floor, and a 'fourth wall', the viewer will be transported to the Arthur Ashe Stadium in a 360-degree immersive environment. Our tennis experts will take the viewer into the eyes of the players for expert Hawkeye analysis and insight as the tournament progresses.
The technology involved allows us to add an entire new dimension and will bring customers closer to the action.
Highlights of matches will be available across Sky Sports TV and our social media platforms.
Video highlights will also be available of the Sky Sports website and app, where there will also be a daily live text commentary on the Sky Sports website and app, as well as live scores, reports, analysis and features.