Sports
The Ashes: James Anderson not thinking of retirement as Ben Stokes backs England seamer to carry on | Cricket News
The older James Anderson gets, the louder the question becomes.
Is this it?
It has been asked more frequently of late with England's record Test wicket-taker turning 41 on Sunday and enduring a lean Ashes. Four wickets in three games at an average of 76.75 and strike-rate of 171.
England captain Ben Stokes has backed Anderson to extend his playing career beyond the end of the Ashes series

So, is this really it? Is England's king of swing about to abdicate? Not if he has any say in the matter.
"There are no thoughts about retirement," Anderson wrote in his column for The Telegraph ahead of Thursday's fifth and final Ashes Test at The Kia Oval, live on Sky Sports Cricket.
"If I was bowling horrendously, with my pace down and hobbling around in the field I might be thinking differently. But the hunger is still there. I feel I'm bowling well, that I can still offer something to the team. I keep talking to the coach and captain. They want me around.
"So as long as I am still hungry and want to put in the work then I will keep trying to give my best for the team. That is exactly where I am at the minute.

The Ashes – Live



Thursday 27th July 10:00am

"I have certainly not had the returns I would have liked in this series. Everyone goes through a lean patch. It is just one of those things.
"I am desperate to help the team, desperate to win games. Unfortunately for me it was not to be this series. I've still got another game to go and I will try and do the best I can."
'We should keep hold of Anderson as long as we can'
Anderson is not talking like the Ashes finale will be his England farewell and neither is his captain.
"James Anderson is the greatest fast bowler to play the game and he is still looking as good as he was two years ago," said Stokes at his Barbie Girl-interrupted press conference on Wednesday afternoon.
Watch Stokes' priceless reaction as Mark Wood pranks the England captain by playing Aqua's 'Barbie Girl' over the speakers in his news conference!

Anderson has never been a man for fanfare. You sense that when he does eventually call time he is more likely to do it on a random Tuesday than when the world is watching, so a snap retirement should probably not be completely ruled out.
But Telegraph writer Will Macpherson told Sky Sports over the weekend that he felt Anderson would fancy touring India early next year, while Sky Sports Cricket's Nasser Hussain urged England not to dispense too readily with a man who has been the leader of the attack for over 15 years.
Former England captain Hussain said: "I think we send some of our cricketers into retirement too soon. Three months ago Anderson was the No 1 bowler in the world and he is unbelievably good. We should keep hold of him as long as we can."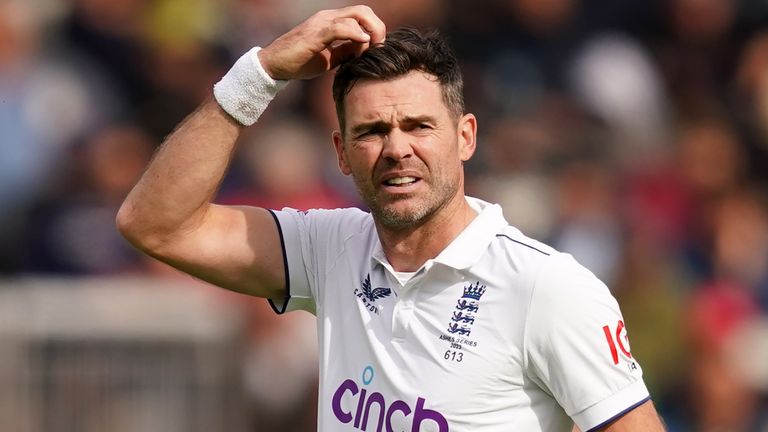 Anderson is just 11 wickets away from becoming the first seamer to 700 in Test cricket. Only 20 shy of overtaking the late, great Shane Warne's 708 strikes and moving second on the all-time list, behind Sri Lanka's Muttiah Muralitharan (800 Test wickets).
There are plenty of reasons to carry on and a closer look at the numbers, as well as the circumstances, suggests there may not be too many reasons to stop.
'He has still bowled like Jimmy Anderson'
While wickets have eluded Anderson in this series, he has only gone at 2.69 runs an over, the best return by any bowler on either side.
Anderson said of the drawn fourth Test in Manchester: "There were a couple of times when I bowled a tight five-over spell then Woody [Mark Wood] came on and took a wicket straightaway. It feels like maybe I created the pressure, then Woody came on and let loose."
Stokes added: "He has not been bowling badly, he has still bowled like Jimmy Anderson, he has just not had the rewards he deserves.
"I am not sure of the wickets to have fallen at the other end while he has been bowling but he ties an end up, even though that is not his main priority, just because he is so relentless with line and length.
"I feel he has been unlucky, the amount of times he has gone past the edge or past fourth stump, bottom edges have gone just past the stumps. I feel frustrated for him."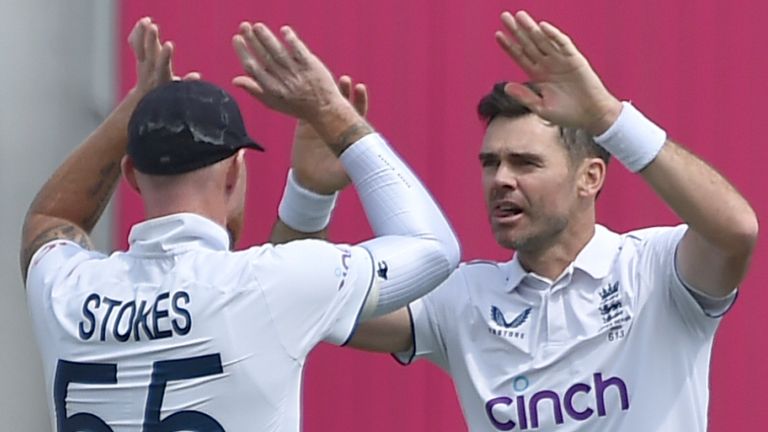 Anderson has not appeared to have the movement of recent years this summer but the Ashes pitches have not aided him.
He described the Edgbaston surface for the first Test as "kryptonite" while when the second game at Lord's became a bouncer-fest – Bodyline 2023 – he was largely a peripheral figure. The pitch with the most life in it came in the third Test at Headingley, a game Anderson was ultimately rested for.
Anderson has been retained for the final Test against Australia. It should be his final Ashes encounter – he will be 43 by the time of the next trip Down Under in 2025/26 – and his last chance to be involved in a winning Ashes Test for the first time since 2015.
Whether it is the final Test of his career remains to be seen.
If it is 'so long, Jimmy', then fans should just be thankful they got to witness his slickness for so long. But the way Anderson and his captain are talking, it may not be it after all.
Watch the fifth Ashes Test, from The Kia Oval, live on Sky Sports Cricket from Thursday. Coverage starts at 10am ahead of the first ball at 11am. You can also follow over-by-over commentary and video clips via our blog on skysports.com and the Sky Sports App.