Game
Teenage Mutant Ninja Turtles: Shredder's Revenge – Dimension Shellshock Review (Switch eShop)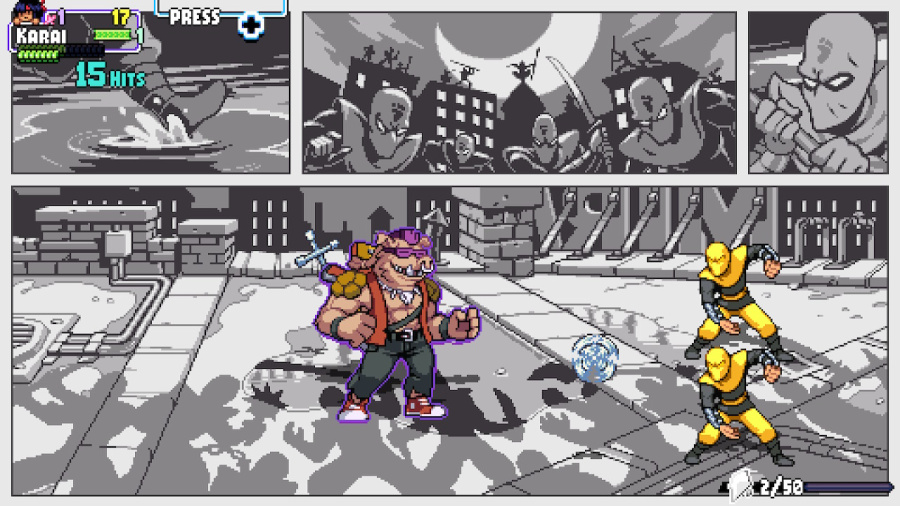 When we first got our hands on Teenage Mutant Ninja Turtles: Shredder's Revenge last year, we were by no means of the impression that the game was lacking in the content department — this is, after all, what we deemed to be "the best Turtles scrolling beat 'em up ever". A little over a year later, the game's first DLC, 'Dimension Shellshock', is here to show that sometimes bigger is in fact better, and even more Turtle action is always a good thing.
This DLC comes as a rather solid package. Alongside several new character colour palettes (many of which come from a free update that launched alongside the DLC), there's also the addition of a brand new game mode, two fresh-faced fighters — Usagi Yojimbo (aka 'Miyamoto Yojimbo' in his original comics) and Karai (a mainstay of the 2003 animated TMNT series) — and a number of shredding original music tracks from composer Tee Lopes.
We'll kick things off with the star of the show: Survival mode. If a roguelike-style take on the beat 'em up wasn't the first thought to pop into your mind after completing the Shredder's Revenge Story mode, then know that you are not alone, but after getting to grips with waves of tough foes, power-up propositions and the never-ending desire for 'just one more run', we were pleased to see that the latest loop continues to kick shell.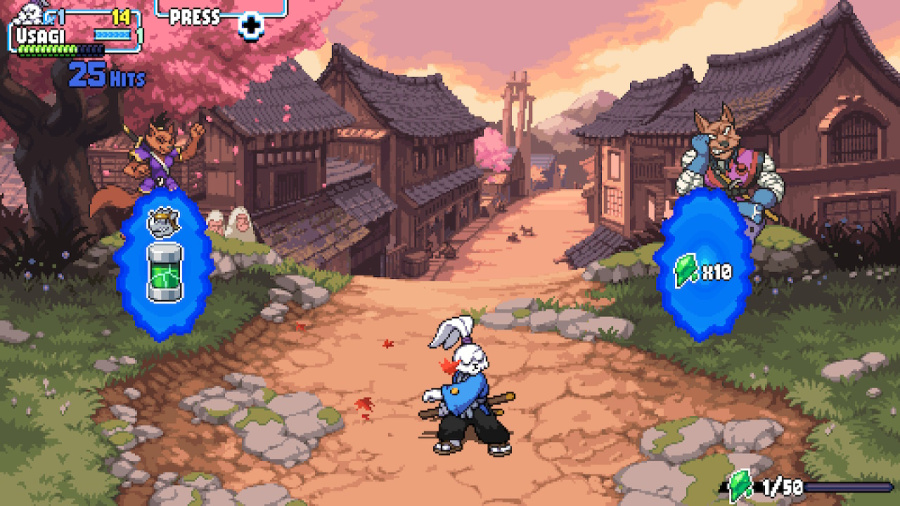 Survival mode begins with a short cutscene. The Neutrinos (a race of humanoid teenagers from Dimension X that you might remember from the original animated series) appear through a wormhole and warn the Turtles that Shredder is attempting to conquer the multiverse — because you can never have too many of them, right? The old gang, now joined by a ninja rabbit and a former-Foot Clan member, leap into action to take down the big bad once again.
So begins the central loop. You hop into one of the five new Dimension settings — the retro '8-Bit Battleground' and comic book-inspired 'Mirage' environments are standouts — take out a wave of foes, and aim to collect enough shards to complete a Dimension Crystal and progress onto the next area. When you die, your collected Crystals are tallied up and produce upgrades for your next run. So far, so roguelike, though the similarities to Dotemu's previous 'Survival Mode' DLC for Streets of Rage 4 are also clear.
The structure is repetitive by its very nature, but a bonus mechanic at the end of each wave keeps things interesting. Before diving into the next battle, you are given a choice between two upgrades including more shards, health, strange power-ups, or the chance to mutate into some classic villains for a short time. These range in their usefulness — playing as Shredder, Bebop, and Rocksteady provides some respite from your fighter's decreasing health, though the villains' limited movesets feel a little slow compared to the fluidity of the Turtles' — but the ever-changing rewards add an interesting risk/reward system to what would otherwise be punch, collect, repeat. Do you play it safe and collect a Pizza Box health boost at every opportunity, or is it worth grabbing a bundle of shards to ensure quick progression? With boss battles randomly thrown into the lineup of enemy waves, your choice of bonuses can either make or break a run.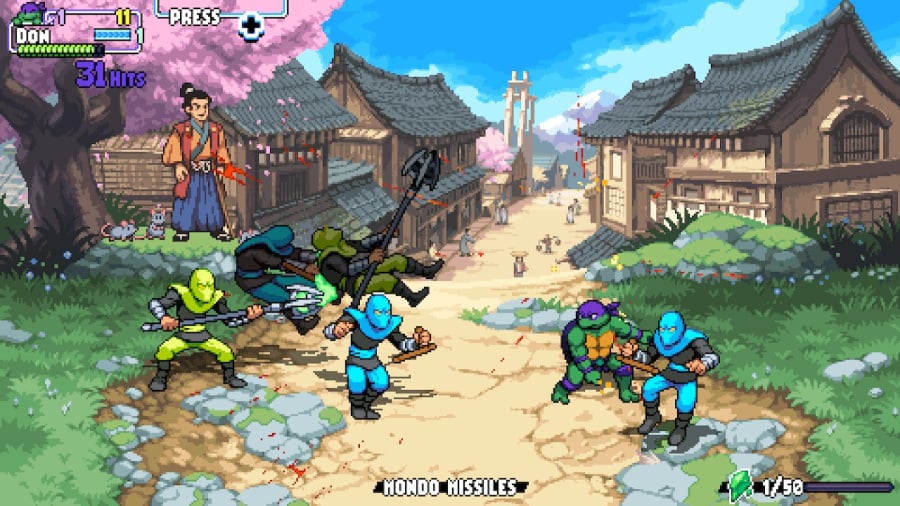 And boy, do you need that boost in the early stages. Each fighter's first run sees them with only one life and limited hit points, making those initial waves feel all the more challenging while you attempt to rebuild your beat 'em up muscle memory. That being said, once the upgrades start rolling in and the final goal of completing five Dimension Crystals and defeating the Master of the Void seems all the more attainable, Survival mode quickly becomes difficult to put down.
But what about the new fighters? Many of us will have tried out a few different Turtles in the game's main story, but the addition of Survival mode encourages fighter experimentation, making it the perfect time to throw two newbies into the mix. Usagi Yojimbo has quickly fallen into our rotation, with high speed and balanced range and power making him a strong choice for navigating some of the busier waves, though Karai's improved strength is a blessing when taking on tougher foes. Both are available to use in Survival, Arcade, or Story mode, so you can get to grips with the new animations and combat styles however you please.
Seeing two new characters included with the strong new game mode makes the DLC's £6.69 / $7.99 / €7.99 pricetag ooze value. It is rare that a DLC provides just as much entertainment value as the main game, but we can see the new mode becoming a replayable staple for many a game night to come — no quarters required.
Conclusion
This has all the charm of the base game, but with a challenging new stand-alone mode that adds quality and value. The opening challenge won't be for everyone and those early runs can be pretty unforgiving, but once you see those unlocks rolling in and with an upgrade or two under your belt, you'll soon wonder why a Turtles roguelike hasn't been on your wishlist from the very beginning. With these added bells and whistles, Teenage Mutant Ninja Turtles: Shredder's Revenge is still totally tubular, dude.