Sports
"Negotiating like this is a hostage situation"
Coco Gauff and Karolina Muchova had to take an unexpected break in the middle of the second set in their 2023 US Open semifinal as climate change protestors interrupted proceedings on Arthur Ashe Stadium.
Gauff took the opener on Thursday, winning the first set 6-4 rather comfortably. The American No. 2 was leading 1-0 on her serve in the second set when three fans on the upper deck caught the attention of everyone with their loud chants.
The chair umpire initially asked the crowd to calm down, assuming it was the usual noise from the stands. However, the trio did not let down, forcing players to stop play.
"End fossil fuels," the group of climate change protestors chanted loudly.
Security was then called to remove them from the stadium, to no avail. One of the protestors, reportedly wearing a 'End Fossil Fuels' t-shirt, stood his ground and refused to leave, even as NYPD officers rushed in.
In the meantime, Coco Gauff and Karolina Muchova were frustrated as the interruption dragged on. Gauff and her team were particularly angry with the delay.
"They said they're on the phone negotiating, like this is a hostage situation. They are like we are negotiating. Like why are you negotiating?" Gauff said.
"What a joke," Gauff's coach Brad Gilbert lamented.
Eventually, after nearly 45 minutes, the third protestor was removed by police officers and escorted out of the stadium in handcuffs. Reportedly, he had glued his feet to the ground, which explains why it took so long to remove him from the stands.
Aryna Sabalenka or Madison Keys awaits winner of Coco Gauff vs Karolina Muchova SF in US Open final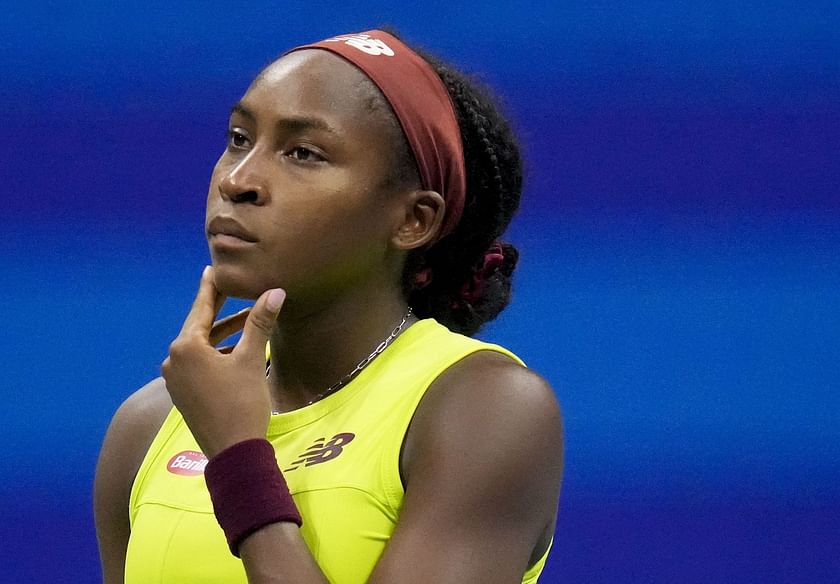 The winner of the semifinal clash between Coco Gauff and Karolina Muchova will take on either Aryna Sabalenka or Madison Keys in the final of the 2023 US Open on Saturday.
All four have been Grand Slam finalists previously, with only Sabalenka knowing what it means to have won a Major. The Belarusian triumphed at the 2023 Australian Open to win her maiden Slam title, downing Elena Rybakina.
Keys, meanwhile, is a former finalist at the US Open, reaching the title clash in 2017 before falling to compatriot Sloane Stephens. Gauff and Muchova are both former French Open finalists — the American in 2022 and the Czech in 2023. The duo both lost to Iga Swiatek in the championship battle.
Coco Gauff also competed in the women's doubles and mixed doubles at Flushing Meadows this fortnight, partnering with Jessica Pegula and Jack Sock respectively. She and Pegula lost in the quarterfinals, while Sock and Gauff fell in the very first round in New York.