Sports
Los Angeles Chargers quarterback Justin Herbert agrees to record $262.5m deal | NFL News
Justin Herbert becomes the NFL's highest-paid quarterback by annual salary, agreeing to a five-year, $262.5 million extension with the Los Angeles Chargers I His deal surpasses the $260 million, five-year extension Baltimore's Lamar Jackson signed three months ago
Last Updated: 26/07/23 6:36am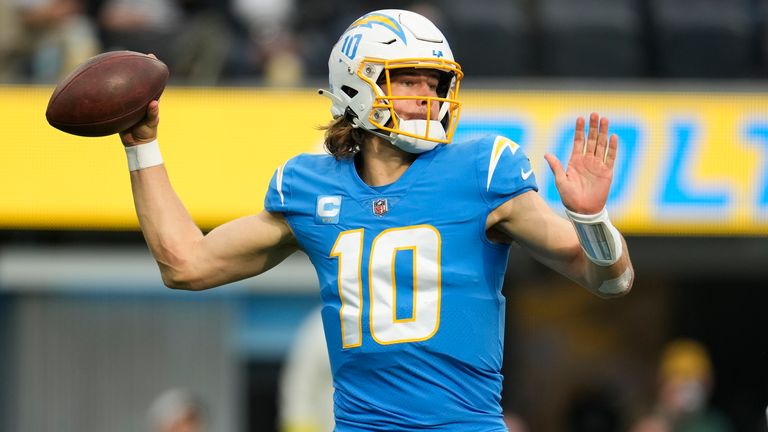 Los Angeles Chargers quarterback Justin Herbert is the latest to earn the title of "highest-paid player in NFL history" after agreeing a five-year contract extension worth $262.5 million.
Herbert's total value and $52.5 million average per season surpasses the $260 million, five-year extension ($52 million average) Baltimore's Lamar Jackson signed three months ago.
Herbert will get $218.7 million guaranteed, which is second to the fully guaranteed $230 million deal Deshaun Watson signed with Cleveland in 2022.
Cincinnati Bengals quarterback Joe Burrow is also due for an extension that could top Herbert's figure.
Herbert won Offensive Rookie of the Year honors in 2020 after the Chargers selected him sixth overall out of Oregon in the 2020 NFL Draft, the third quarterback off the board behind Burrow (No 1) and Tua Tagovailoa of the Miami Dolphins (No 5).
Herbert was a Pro Bowl selection in 2021 and earned MVP votes for the first time last year, when he threw for 4,739 yards, 25 touchdowns and 10 interceptions while guiding the Chargers to the playoffs.
In 49 career games (all starts), Herbert has completed 1,316 passes for 14,089 yards — in both cases, the most through a player's first three seasons in NFL history.
He's amassed 94 touchdowns and 35 interceptions while completing 66.9 percent of his passes.