Lifestyle
How to style and organize your vanity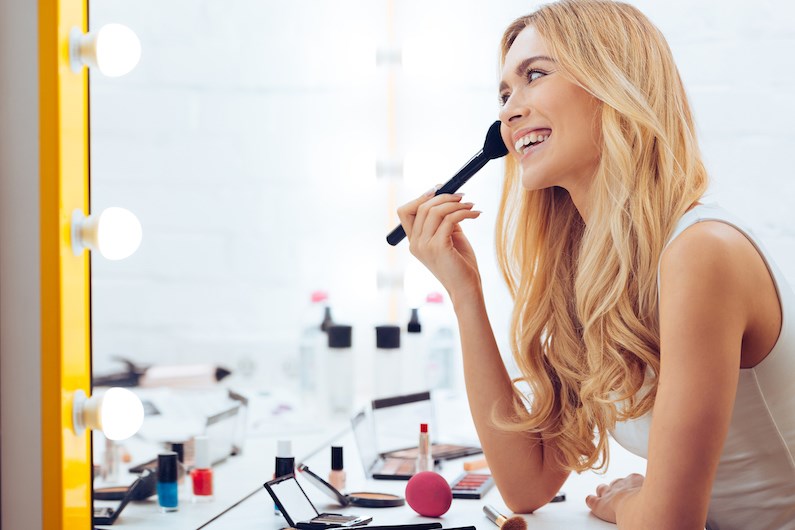 If you own a vanity, honestly, is it a mess? Getting ready can be time-consuming and stressful at times, and our vanity can take on this, quickly becoming an unorganized mess.
Preparing and styling yourself for the day should be fun and entertaining, not frustrating. But to properly appreciate this time, you'll need an organized vanity and the right style.
Whether you just bought a new vanity and don't know how to style it or you're looking to make your existing vanity more functional and organized, our top tips I can help you. Here are some great ways to decorate and organize your vanity with function and style.
How to organize your dressing table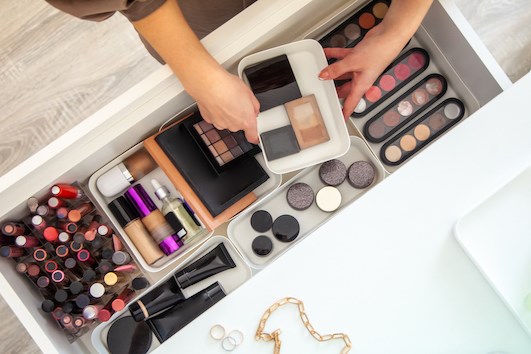 Before you style your vanity, it will first require some sorting and rearranging.
Sometimes your dressing table can become a dumping ground. But by categorizing it correctly, you can prevent future messes, loss of products and accessories, and stay calm.
For the best organized system, you will need different widgets and organizers. Here are some of the best containers, gear, and storage pieces to help you sort through.
Using the tray
Although the dressing table has drawers, it is very convenient to keep your essentials close by and easy to access. That's where a tray can help. These stylish and practical shallow containers provide a neat place for accessories and products on the surface of your vanity. Use them to hold and divide your favorite jewelry, perfume, or ornaments.
Makeup table
If you regularly wear makeup, you certainly have essential products that you want to be more easily accessible than others, and a makeup stand can allow you to do this cleanly. They have various sections to store and categorize your favorite products.
Drawers & Organizers
Dressing tables often come with drawers, ideal for storing and hiding all your accessories and products, but to avoid them becoming an unorganized mess, you can use a number of drawers to separate all his products.
Pencil holder
Believe it or not, pencil cases are really great for holding your makeup brushes or other accessories. Their compact design means they fit into small areas, don't take up much space, and hold all your products upright for easy access.
Jewelry box
Never lose a piece of jewelry again with a box to keep all your pieces together neat and organized.
How to style your dressing table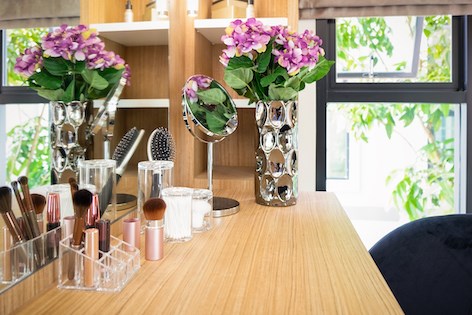 Once you have your dressing table set up, you can move on to styling it. Whether your vanity is located in the bathroom, bedroom or empty space, it will act as a focal point, so it is important that it looks attractive and natural in the area.
Here are a few tips to make sure your vanity is always set up to impress.
Make sure your vanity has a focal point
The vanity is a long piece of furniture that needs a central piece to draw the eye and tie the look together. If your wardrobe has a built-in mirror, you can skip this step, but if not, you should add a statement piece of decor, whether it's a picture, slant, photo or a mirrorto make the space seem bigger.
Keep it clear
A clean space looks organized and uncluttered, so try to keep as little furniture outside the vanity as possible. Of course, you can certainly place your makeup organizers and lights on the surface but remember to add all of these in moderation. Stick to the three or four item rule. For example, you might have a nice makeup organizer and stylish lights one side has a tray and the other side is a small tree. It's up to you, but by following the rule of three or four, you can make sure your wardrobe doesn't look too cramped.
Remember that less is always more when it comes to hairstyles.
Garbage place
Inevitably, products run out and sometimes we need wipes to remove makeup at the end of the night, which is why you need to have a bin near and below your vanity for practicality.
More light
No wardrobe is complete without lights that illuminate and help you see any time of day. So if your closet doesn't have lights, make sure you add some. It will increase the style of the wardrobe and make it stand out.
More decoration
If you have free space on the surface of your vanity and it looks too plain, there are a number of decorative items you can use to spice things up and add a personal touch, including photos, memorabilia, candleor plants.
Compliment everything together
Your vanity cabinet and its items should match your existing theme and style rather than clash. So, remember before you buy any storage box or ornament for your wardrobe, make sure it will complement the existing space in terms of color, style or design. For example, if you have a room painted yellow, a white lamp could work well.
Make Sure Your Decoration Balance
An important aspect of styling is adding different textures and heights for a pleasing, natural look. Make sure the decor and items on your vanity have different patterns, styles, shapes, and colors. This can be a tall lamp with a small jewelry box or a mirror with a stylish tray.
Don't forget about color.
Color can brighten up your wardrobe and boost your mood, so don't forget to match your decor with your favorite color that matches your room.
Above all, practicality is most important when you're styling your vanity. You'll be using your vanity on a daily basis, so it should be easy to access and clean for a pleasant experience.