Sports
England coach Steve Borthwick 'excited' by World Cup potential despite Six Nations decline | Rugby League News
England finished fourth in the Six Nations group after a 29-16 defeat to the Grand Slam champions Ireland in Dublin; Steve Borthwick's side now have less than six months to prepare for the World Cup in France; "I'm very excited about what these players can do for the World Cup"
Last updated: 03/19/23 11:23 am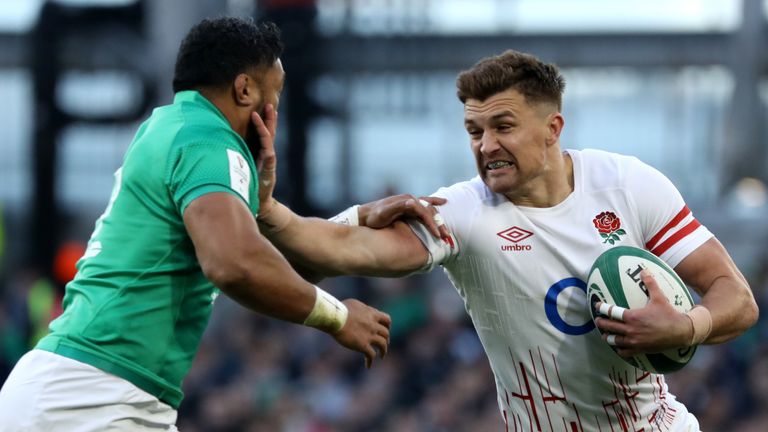 England manager Steve Borthwick is "delighted" about his team's World Cup prospects despite their unsuccessful Six Nations campaign.
Borthwick's team, who lost 29–16 to the Grand Slam champions Ireland, finished fourth in the table after recording two wins and three losses for the third year in a row.
Although England's performance in Dublin has improved greatly from a 53-10 loss to France a week earlier, there is little indication that they could be prime contenders for the tournament. globally this fall.
"We'll be taking a close look at these Six Nations, taking the lessons we've learned from them and clarifying our direction going forward," Borthwick said.
"The team is not in a position to be and while we are evaluating teams that have used this four-year cycle very well, that is not where England are.
"I cannot do anything about the past. I intend we will work hard to put England in the best position possible and I am very excited about what these players can do. make the World Cup."
The former Leicester head coach, who replaced Eddie Jones in December, is enjoying the prospect of more time working with his team in the coming months.
He added: "We have some weeks to prepare [for the World Cup]. Then players will be conditioned to play international rugby and understand how we want to play.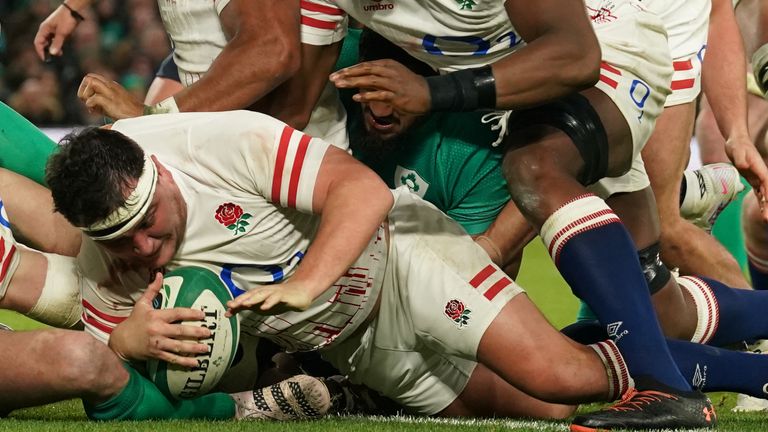 "It's five intense matches and the effect is that you're going to have a major training session every week.
"I'm looking forward to the opportunity to work with the players for a longer period of time. I think we've seen some development here but we'll see a lot more in that preparatory phase."
England took the lead for most of the first half in Dublin thanks to the first two of three penalties taken by their captain Owen Farrell, but suffered defeat shortly before the turn of the tie. away when Freddie Stewart was sent off for a foul.
As the full-back turned to the side, his arm hit the head of Ireland's Hugo Keenan, who was stooping for a loose ball, and referee Jaco Peyper showed a red card.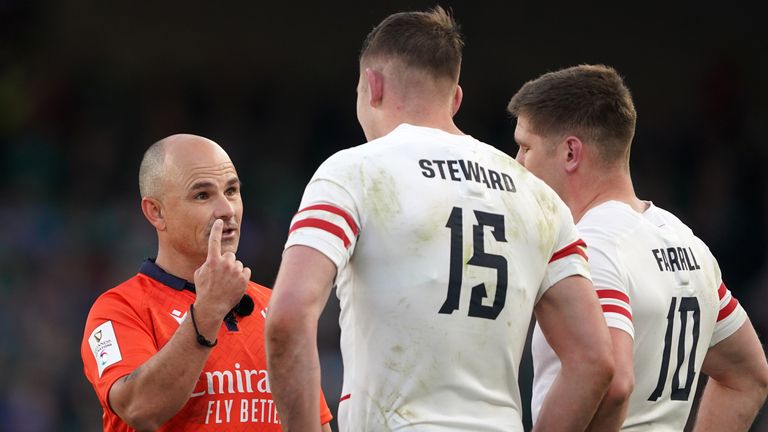 Despite being underdog, England cornered the hosts by all means, scoring through Jamie George before Ireland sealed a 29-16 victory – and the trophy.
Reflecting on Stewart's red card, Farrell admitted: "Honestly, I'm surprised. But it's not up to us – we don't set the rules, we don't put them in place. mind.
"We didn't listen to the process the referee went through, we just had to accept it. The way we reacted after that red card was very good.
"We fought for each other. Unfortunately, we didn't get the results we deserved, which is always disappointing in an England shirt."
'Bigger fish to fry for Ireland | An encouraging sign for Britain'
Sky Sports News 'James Cole…
"This is a fairytale Grand Slam for Ireland, winning the title in Dublin for the first time and ending an incredible 12 months that saw them win 22 of the 24 Tests.
"It is also a fitting Six Nations farewell to captain Johnny Sexton, who does not rule out the possibility of withdrawing his decision to retire after the World Cup.
"For those who think this could be the end of Ireland's journey, Andy Farrell was quick to point out that they have bigger fish to fry, while Sexton's message is 'come to the World' Cup', only six months left.
"The contest's controversial moment came shortly before half-time – with the score at 10-6, England full-back Freddie Stewart received a red card as he tried to avoid a tackle. It was mixed opinion, with former England captain Will Carling calling it 'a joke', World Cup-winning full-back Jason Robinson calling it 'ridiculous', while England cricket captain Ben Stokes also interjected, calling it 'a mess'.
"However, it was a much more spirited and encouraging performance by England, coming just seven days after a record-breaking home loss to France.
"Despite this, Steve Borthwick admits there is still a big gap between England and the best teams in the world – Ireland being the best of them all."