Sports
ECB shows support for Rainbow Laces in second UK test against South Africa | News about cricket
Stonewall's rainbow rope will run through the quarter-finals of the Royal London One-Day Cup, The Hundred and the first of England's test matches when they face South Africa in their second LV=Insurance Test at Emirates Old Trafford in this week
Last Updated: 8/24/22 5:27 pm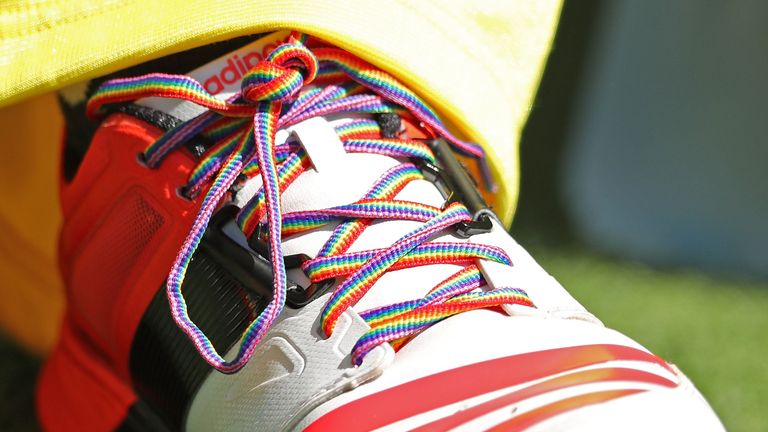 The England and Wales Cricket Council is backing Stonewall's Rainbow Laces campaign for the fifth time and the first in an England Men's Test match.
The campaign, which sees the game come together to celebrate and encourage LGBTQ+ participation in cricket, will run throughout the quarter-finals of the Royal London One-Day Cup, The Hundred and – for the first time – the LV test match. Insurance of England against South Africa at Emirates Old Trafford.
As well as lanyards shared with all professional players participating over the weekend, they have been made available to a selection of recreational cricket clubs across the country along with an activation pack to help clubs mark the weekend and show their support. Over 200 clubs have reached out to request their own Rainbow Laces activation pack.
Rainbow Laces Messages will be at all pro games over the weekend, along with branded stumps and a big-screen presence, and every cricket club in the country sporting graphics. social media to help show their support online.
British male cricketer Joe Root said: "It's great to support a campaign like Rainbow Laces.
"Cricket needs to be for everyone, and as players we need to keep trying to show that we believe in it – that we want people to feel included and welcome in our sport."
British female cricketer Lauren Winfield-Hill said: "I was fortunate enough that I always felt able to play cricket as a young girl, but that's not always the case for everyone and we need to work hard to lower the barriers so everyone can access cricket.
"Statistics demonstrate that a disproportionately high percentage of LGBTQ+ people feel less welcome in sport, whether it's participants or supporters, and we need to help change that. The rainbow rope can play an important role in proving to all LGBTQ+ people that cricket wants to welcome them with open arms."
This year's Rainbow Laces campaign follows the formation of a new national advocacy group, Pride in Cricket, who have worked with the ECB to create an in-game community for players and supporters. LGBTQ+.
The game's support for Rainbow Laces is part of the ECB's continued commitment to Elevate the Game; a new holistic platform to promote equity, diversity and inclusion in cricket.
ECB interim CEO Clare Connor said: "It is important that the game continues to demonstrate that the game is for everyone. Campaigns like these aim to actively support participation. Join and integrate into cricket for everyone in the society.
"Sport has such a power and much of our job in cricket is to bring communities together. Rainbow Laces helps show that we want to be a sport for all. ."