News
CJI Ramana's last collegium meeting ends in stalemate | India News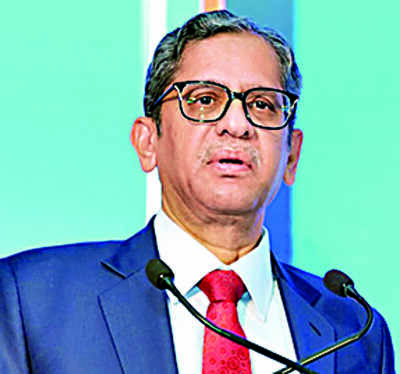 NEW DELHI: CJI The last meeting of the university led by NV Ramana on Thursday ended without any business deals but CJI will boast of appointing three female judges for Supreme Courtone of those who will go on to make history by becoming the first woman CJI in 2027.
Only three weeks left for CJI RamanaRetired College, which also includes Judges UU Lalit, DY Chandrachud, Sanjay K Kaul and S Abdul Nazeeragreed that proposals to fill three vacancies in the SC and transfer the HC chief justices could wait until the new CJI is sworn in.
Justice Lalit will be sworn in as the 49th CJI on August 27 and will serve a short term of 74 days. As CJI, he will lead a university consisting of Judges Chandrachud, Kaul, Nazeer and Indira Banerjee. Justice KM Joseph will enter college on September 23, when Justice Banerjee will retire.
Justice Lalit, scheduled to retire on November 8, will have to write to the Union government on October 8 recommending the appointment of Justice Chandrachud as the 50th CJI. Regardless of the vacancy and assignment. will be filled during Justice Lalit's tenure as CJI, it will have to be done between August 27 and October 7, over a period of 42 days.
Justice Ramana became CJI on April 24 last year succeeding CJI SA Bobde, whose one-year and five-month tenure as head of the justice department was marred by the pandemic and saw no appointment into SC.
In contrast, the university led by CJI Ramana in the past year and four months has appointed 11 SC judges, including a record nine judges last August. The three women were sworn in as SC judges for the first time on August 31 of last year. One of them, Justice BV Nagarathna, will become the first woman CJI on September 30, 2027.
In addition, the Judicial University led by Ramana also proposed to appoint 255 people as HC judges, of which 185 have been appointed and 70 are still awaiting government approval. During his tenure, 15 chief justices were appointed to different HCs.
FOLLOW US ON SOCIAL MEDIA
FacebookTwitterInstagramKOOKS APPLICATIONYOUTUBE